In-Home Computer Setup
Buying a new computer can be an exciting experience, but the proper computer setup takes time. Many people find in-home computer setup difficult, from getting the new system up and running to making the proper connections to accessing the internet and peripheral devices. Dallas In-home Computer Setup is offered by Morgan Systems to make the process as simple as possible.
Although most new computers come with fairly simple setup instructions, these are usually for very basic layouts that do not give you the options you need to customize your computing experience. While turning on your computer and navigating to the operating system desktop is simple, giving your new computer the same look and feel as the old one takes more effort. You can rely on us to handle all aspects of in-home computer setup, rather than struggling to complete the task yourself.
Setting up a new home computer entails far more than simply plugging it in and turning it on. You need to know how (and when) to connect all of your hardware. You must also be aware of the necessary settings for all devices and software to function properly. To do the In-home computer setup and installation, our computer specialists will come directly to your home or office. We've worked with a wide range of operating systems and hardware and have the tools to get your new system up and running quickly.
We will give you the best experience possible. Within 15 minutes of the scheduled time, our computer experts will arrive on-site. We can assist you with anything from a simple installation to full integration with an existing network.
When you need to set up a new home computer, contact us. Everything is done correctly the first time, so there is less to worry about later. Call us today to arrange for the setup and installation of your computer.
In-Home Computer Setup Services:
Physically setup and connect a computer, monitor, keyboard, mouse, and speakers
Perform first-time software setup
Install critical system updates with set future updates to auto-install
Create user accounts
Optimize start-up and shutdown
Clean up the taskbar and quick-launch menus
Remove unwanted programs and trialware
Test network and internet connectivity on the existing network
Configure the default web browser, homepage, and search provider
Demonstrate basic functionality and answer questions
Install and update security software (purchased separately)
Install and configure app/software programs (MS Office, Adobe Reader, etc.)
Create restore media from a USB drive
Install one hardware device (printer, external hard drive, etc.)
Software Installation / Upgrades
We can assist you whether you want to upgrade existing software or install something completely new. We offer full software installation and upgrades to ensure that you get the most out of your in-home computer setup experience.
When new software is released, it is usually a good idea to upgrade. The most recent version of the software will frequently fix bugs found in previous versions, will be faster, and will have more features.
When upgrading software, backups are frequently used to protect your existing data and files. If you don't do an upgrade or installation correctly, you might find that the program doesn't load or won't open previous files. This is especially important if you are attempting a complicated or custom installation. We are here to help you whenever you require a proper software installation or upgrade.
When upgrading or installing software, it is critical to understand the system requirements for the upgrade. f your computer software or hardware does not satisfy the criteria, you may be asked to acquire one before proceeding with the update.
Our software installation specialists can visit your home or office to complete your installation or upgrade. We are committed to ensuring your complete satisfaction by providing prompt and efficient service. We can help you with any type of upgrade or installation you are attempting. We've worked with a wide range of software and system configurations. We will back up your data and ensure that you have the correct software for your system. We are here to make sure that computer software installation and upgrades go as smoothly as possible.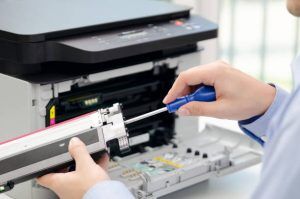 Printer Setup and Trouble Shooting
To set up your printer and troubleshoot any issues, we will visit your home or place of business. The majority of printer repairs can be completed in a single visit by our technicians, who will arrive on time for your scheduled appointment. Because we have experience with a wide range of printer models and configurations, we are confident that we can get you printing in no time.
Although having a printer at home or the office is helpful, sometimes it can be challenging to set one up and get it to function with your system. No matter how you physically attach your printer to your computer or whether you attempt to configure it for wired or wireless printing, several problems could prevent you from achieving your desired printing results. We are fortunately able to assist with printer and scanner connectivity.
Sometimes the right setups, compatibilities, and connections are required for your printer to function with your system. When you call us for printer setup, we will check all potential connectivity and compatibility issues to make sure your printer will function with your system.
There are numerous causes for a printer's malfunction. The connections could be damaged or loose. The printer may have internal components that aren't operating properly. They might be too great a distance between your Wi-Fi signal and your printer. Your computer can potentially have a virus that is blocking you from connecting to the printer. Whatever the cause of your failure to print, we can assist in getting your system up and running properly. Our printer setup and troubleshooting services are intended to help you use your home or office PCs to print once more.
Computer Maintenance and Tune-ups
When you first purchase a new computer, it appears to be lightning fast. However, you may notice that your computer is slower and less responsive after a few months. Tasks that were once quick now seem to take an eternity. To fully utilize your computer you need to maintain it well. We provide computer maintenance and tune-up services to keep your system running smoothly.
Nobody enjoys wasting time waiting for programs to load or for their mouse clicks to respond. You must maintain your computer so that it can respond quickly to your tasks. While computers are immensely complex, they need regular maintenance, much like your car. Whatever is slowing down your computer, we can quickly identify the problem and provide you with the necessary computer repair and tune-up.
There are numerous reasons why your computer slows down over time. Too many programs loading at startup, Spyware/Viruses, a disk that is almost full, and an outdated or failing hard drive are some of the more prevalent explanations. A slower computer isn't always the result of something you did wrong. Normal usage will have an effect on the speed of your computer over time.
When you need computer maintenance and tune-up services, we may come to your home or office and perform the necessary work. We typically use a remote connection to diagnose and resolve general maintenance issues. Morgan Systems provides Managed IT Services in Carrollton Texas, Dallas, and surrounding areas. We have computer technicians that are quick and professional, and we will have your system back to running in no time.
If your computer isn't performing optimally, it's time to contact us for a new In-home computer setup.[/vc_column_text][/vc_column][/vc_row]